U.S. Apparel Spending Up Most Since 2005
Americans' spending helped drive economic growth beyond expectations in the third quarter -- with apparel retailers in particular feeling a welcome recovery.
Consumption of clothing and footwear rose at an 11.7 percent annual pace, the biggest gain since 2005. That helped propel the increase in non-durable goods consumption to the fastest in more than five years. The apparel category accounts for about 3 percent of overall consumer spending.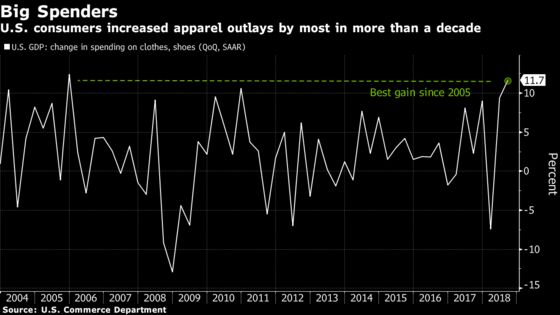 The figures add to signs that this is shaping up to be one of the strongest holiday shopping seasons yet. Low unemployment, elevated consumer confidence and stronger household finances are encouraging shoppers to dip confidently into their cash. The average household expects to spend $1,536 this season, 25 percent more than in last year's survey, according to Deloitte.
271018BloombergQuint//MKMA74418